On 27th July 2023,
Veolia Colombia officially launched PlastiLoop by Veolia
, during a festive and instructive evening in its head office in Bogotá.
PlastiLoop by Veolia was launched globally in October 2022, but adding Colombia to the network of PlastiLoop experts is a significant milestone both for Veolia in Colombia and Veolia as a Group. Indeed, the Colombian plastic recycling plant located in the Parque Tecnológico Ambiental La Sabana (La Sabana Environmental Technology Park), is the first PlastiLoop plant on the American continent!
During her opening speech, Judith Buelvas, Chief Executive Director of Veolia Colombia and Panamá, explained with pride and ambition to customers, partners, suppliers, colleagues, media and friends guests of this special evening, the importance for Veolia in Colombia to position itself on the plastic recycling market, thus covering one more step in the Circularity of Plastic value chain. Indeed, Veolia in Colombia already collects and sorts waste, it will also now recycle plastic!
---
Many companies in Colombia have commitments that exceed the legal ones and seek to achieve plastic neutrality in 3 to 5 years. In other words, they need to guarantee that 100% of the plastic they use in their packaging is recycled. Veolia is a vehicle to achieve these sustainability goals. 
Judith Buelvas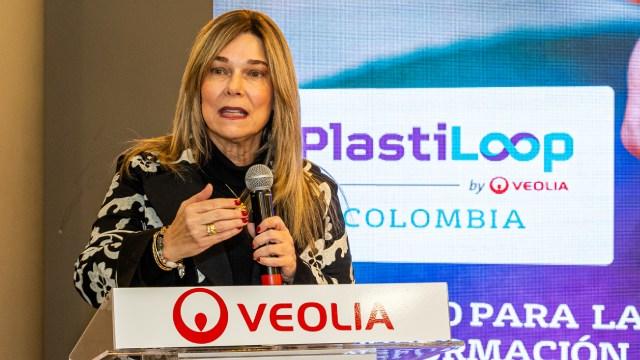 ---
Veolia's strategy for plastic recycling in Colombia will begin with the operation of new machinery acquired by the company that transforms plastic, specifically low-density polyethylene (LDPE) that will return to the production process in the form of bags and/or packaging that can be applied in various industries.
This brand-new offer PlastiLoop is made possible by Veolia's extensive network of experts and its 37 plastic recycling plants around the world. It provides its customers with a large variety of high-performance ready-to-use recycled resins: PET, PP, HDPE, PS, ABS, LDPE, and PC. These circular resins can be fed into production lines in multiple industrial sectors, including Packaging, Textiles, Agriculture, Home and Appliances, Automotive, Industrial and Logistics, Building and Construction.
In recent years, Colombia has registered a constant increase in the use of plastic. In 2021 already, an alarming amount of plastic waste was produced in the country, close to 1.3 million tons per year. However, after analysing the recycling rates, a worrying picture was revealed: in Colombia only approximately 17% of the total volume of this waste was recycled.
With such facts in mind, there is no questioning that the implementation of significant and sustainable changes in plastic management in Colombia are needed. All stakeholders involved have started to work on these changes and Veolia is working hand in hand with all its partners to imagine and deploy new solutions.
Thanks to this strategy, Veolia reinforces its commitment to promoting the culture of reducing, reusing and recycling plastics and promoting innovation in sustainable materials and technologies for its customers and all its stakeholders.
Welcome to