---
CIRCPACK launches its interactive ReCoRe platform, offering comprehensive and up-to-date Recycling Country Reports on packaging for 69 countries across the globe.
---
The platform empowers businesses with crucial local insights into collection systems, sorting and reprocessing infrastructure, materials, waste volumes, EPR, regulatory environments, eco-modulation, taxes, labelling, and Deposit Return Systems (DRS).
The recycling landscape for packaging is undergoing continuous changes in local infrastructure, compliance, and legislation. As a result, keeping track of global developments has become increasingly challenging for companies.
Vincent Mooij, Director of CIRCPACK, highlights the platform's benefits: "By providing online access to our platform, we enable brand owners and packaging companies to stay informed on recycling regulations in every country where they market their products. As new regulations emerge, this becomes increasingly vital."
Another key feature of the ReCoRe-platform is its extensive coverage of local Extended Producer Responsibility (EPR) organizations and applicable EPR-fees. "EPR-fees vary significantly between countries, and even the methods for calculating these fees can be complex and diverse. To simplify the process, we offer sample calculations for four standard packaging formats in each country," explains Margaux Bares, Project Manager at CIRCPACK.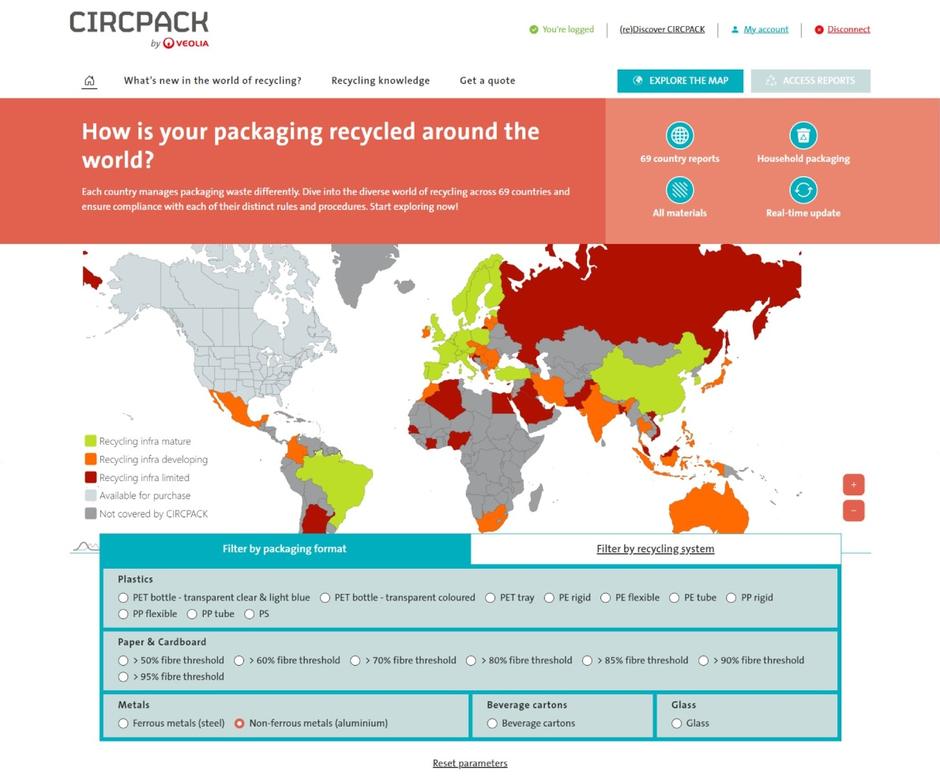 Info & Contact
As CIRCPACK is a subsidiary of the globally operating Veolia group, it has unique access to validate content with local colleagues worldwide. To further improve the content of the platform, CIRCPACK combines in-depth theoretical and operational expertise in recycling via its status as an accredited certifying body for RecyClass.
With CIRCPACK, Veolia is committed to the entire value chain of plastics recycling, from eco-design to production, for a successful ecological transformation of plastics to meet the major challenges of the industry: decarbonization, resource regeneration and circularity, depollution.
For more information about CIRCPACK's ReCoRe platform and its insights into global recycling practices, please visit circpack.veolia.com.
---
About CIRCPACK
CIRCPACK provides brand owners and packaging companies with tailored services to enhance packaging recyclability. The organization offers a range of solutions, including reports on recycling and EPR, Recycling Masterclasses and customized packaging advice. In addition, CIRCPACK performs certifications on recyclability for various packaging types via its status as an accredited certifying body for RecyClass. CIRCPACK's affiliation with Veolia, a global leader in the collection, sorting, and recycling of packaging materials, reinforces the team's expertise and credibility, enabling them to deliver exceptional insights and sustainable solutions in the ever-evolving packaging recycling landscape.
Website: circpack.veolia.com
Email: [email protected]
About Veolia
Veolia Group aims to become the benchmark company for ecological transformation. Present on five continents with nearly 220,000 employees, the Group designs and deploys useful, practical solutions for the management of water, waste and energy that are contributing to a radical turnaround of the current situation. Through its three complementary activities, Veolia helps to develop access to resources, to preserve available resources and to renew them. In 2022, the Veolia group provided 111 million inhabitants with drinking water and 97 million with sanitation, produced 44 terawatt hours and recovered 61 million tonnes of waste. Veolia Environnement (Paris Euronext: VIE) achieved consolidated revenue of 42.885 billion euros in 2022.
Website: www.veolia.com