Challenge
Danone, Veolia and Decathlon developed a closed loop recycling project to transform empty plastic bottles into a brand new t-shirt. Danone, a French multinational food-products corporation, was seeking to minimise at best its impact on the environment by acting on plastic pollution triggered by the overconsumption of plastic bottles.
On the other side, Decathlon, a sportswear manufacturing company, always tries to reach the most innovative materials to promote sustainable sport and fashion. Decathlon and Danone are very engaged and thriving to find a solution for a win-win-win partnership, Veolia made the project a reality.
Veolia's solution
Veolia Huafei, a specialist recycled plastics manufacturer in China, developed a high-end recycling process to produce fibre filaments from bottles. Partnering with Danone and Decathlon, Veolia turned 80,000 plastic water bottles into 5,000 eco-friendly ready-to-wear t-shirts and backpacks. From collection of the bottles, to the purification, granulation and spinning, Veolia support a circular economy for responsible clothing, and building resilience within the industry.
This capability not only opens up new ideas for recycling, but also proves that "resource regeneration is endless" with great quality to ensure safety concerns. Reducing carbon emissions has become our real action.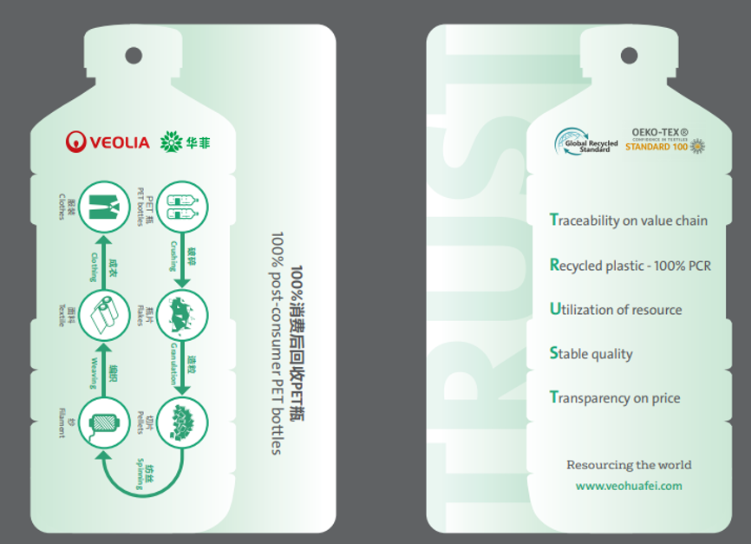 Specific Benefits
Bespoke products ecodesign
Creating new products based on ecodesign is a major step to transfer the economy into a circular economy.
 
Offsetting plastic waste

 

China

PET Recycling
---
5,000 pieces representing 80,000 Danone bottles.
On this process, for every 1kg of waste plastic recycled, 1.5kg of carbon emissions can be avoided.